E-Newsletter
Working in Washington for My Constituents
Washington, April 8, 2021
Dear Friends,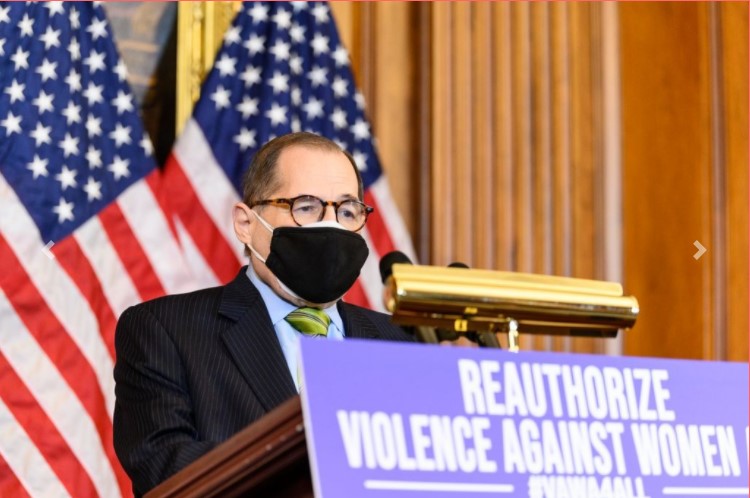 Congressman Nadler speaking in support of the Violence Against Women Act
I've written to you recently about the American Rescue Plan, and I've also sought to share more information about how to file your taxes and how small businesses can seek relief in this trying period. I hope these resources have been helpful. While I've been hard at work ensuring that the American Rescue Plan includes progressive priorities and puts first those most in need, these have been a very busy few months in Washington—read on to learn more about my other recent projects and accomplishments.

President Biden Signs Nadler Bill Into Law to Help Struggling Small Businesses

Across our country, Americans are struggling to make ends meet. Many have lost jobs or been forced to reduce their hours, others have seen their small businesses shutter, and even more aren't sure how they'll scrape together the funds to put food on the table or pay rent. While the American Rescue Plan goes far to help those in need, I wanted to do more to make it easier for American families to weather this unprecedented, disruptive crisis. That's why I am so proud that the bill I introduced, the COVID-19 Bankruptcy Extension Act, was signed into law by President Biden on March 29th.

The COVID-19 Bankruptcy Extension Act, which passed both the House and the Senate with overwhelmingly bipartisan support, doesn't just extend vital COVID-19 bankruptcy relief provisions (first established in last year's CARES Act) for an additional year, it makes it easier for small businesses and individuals to be eligible for and seek bankruptcy relief. It raises the debt limit for streamlined Chapter 11 proceedings from $2.7 million to $7.5 million, excludes federal COVID-related relief payments from being treated as "income" for purposes of filing bankruptcy, and much more to ensure that small businesses and families can get back on their feet. I'm grateful to President Biden for signing it and I'm thrilled for the small businesses for whom this new law will make a world of difference.


Keeping Guns Out of Dangerous Hands

Atlanta, Georgia. Boulder, Colorado. Orange, California. Three cities that share little in common except that last month, all found themselves devastated by mass shootings, suddenly intimately well-acquainted with a distinct type of pain familiar to too many American communities. The human cost of America's epidemic of gun violence continues to rise, leaving behind in its wake lives stolen away, families destroyed by grief, and communities distraught and traumatized. It does not have to be this way—indeed, America is the only nation on Earth that experiences gun violence at such a high, devastating rate.

I've been striving for years to eradicate the pernicious scourge of gun violence and last month was no different. I spoke on the House floor in support of two bills I have co-sponsored and would like to see become law: H.R. 8, the Bipartisan Background Checks Act of 2021 and H.R. 1446, the Enhanced Background Checks Act of 2021. We must do more to ensure those who pose a danger to others cannot access the weapons that can, in an instant, destroy lives. Both of these bills have passed the House, which is a start. But too much is at stake. They must become law.

Passing the Violence Against Women Act

The COVID-19 pandemic has fueled a vicious surge in violence in the home—rates of domestic violence have tragically spiked over the past year. Now, more than ever, we need well-funded programs in place to protect, support, and advocate for survivors—women, men, and children alike. Now, more than ever, we must reauthorize the Violence Against Women Act (VAWA). VAWA—whose authorization, despite my best efforts, expired in 2018—funds a variety of critical grant programs that support survivors and help them to heal and to access justice.

Reauthorizing VAWA would make a vast difference in the wellbeing and safety of so many Americans, so I joined Congresswoman Sheila Jackson Lee, Chair of the House Judiciary Subcommittee on Crime, Terrorism and Homeland Security and Representative Brian Fitzpatrick in introducing the bipartisan Violence Against Women Reauthorization Act. I'm glad that it passed the House last month with bipartisan support and I'm eager to continue working to get it to pass the Senate and be presented to President Biden's desk.
Congressman Nadler delivering remarks at the dedication of the African Burial Ground National Monument in 2007

Honoring Those Who Built New York City at the African Burial Ground
Right now, if you head to downtown Manhattan (wearing a mask, of course!) and stop at 290 Broadway, you'll find the African Burial Ground National Monument. It's a beautiful, solemn site, honoring the remains of the more than 15,000 African men and women interred there who built the foundation for what our city is today. The burial ground—and what it teaches us about the tangible contributions these early New Yorkers made to our city and the adversity they had to overcome—is a site of immense historic import and yet, too few New Yorkers know it exists. That's why last week, Senator Gillibrand joined me in reintroducing a bill—the African Burial Ground International Memorial Museum and Education Center Act—that would establish a world class museum and education center to memorialize not only those buried there, but also the millions of enslaved Africans and their descendants who will be honored at the site.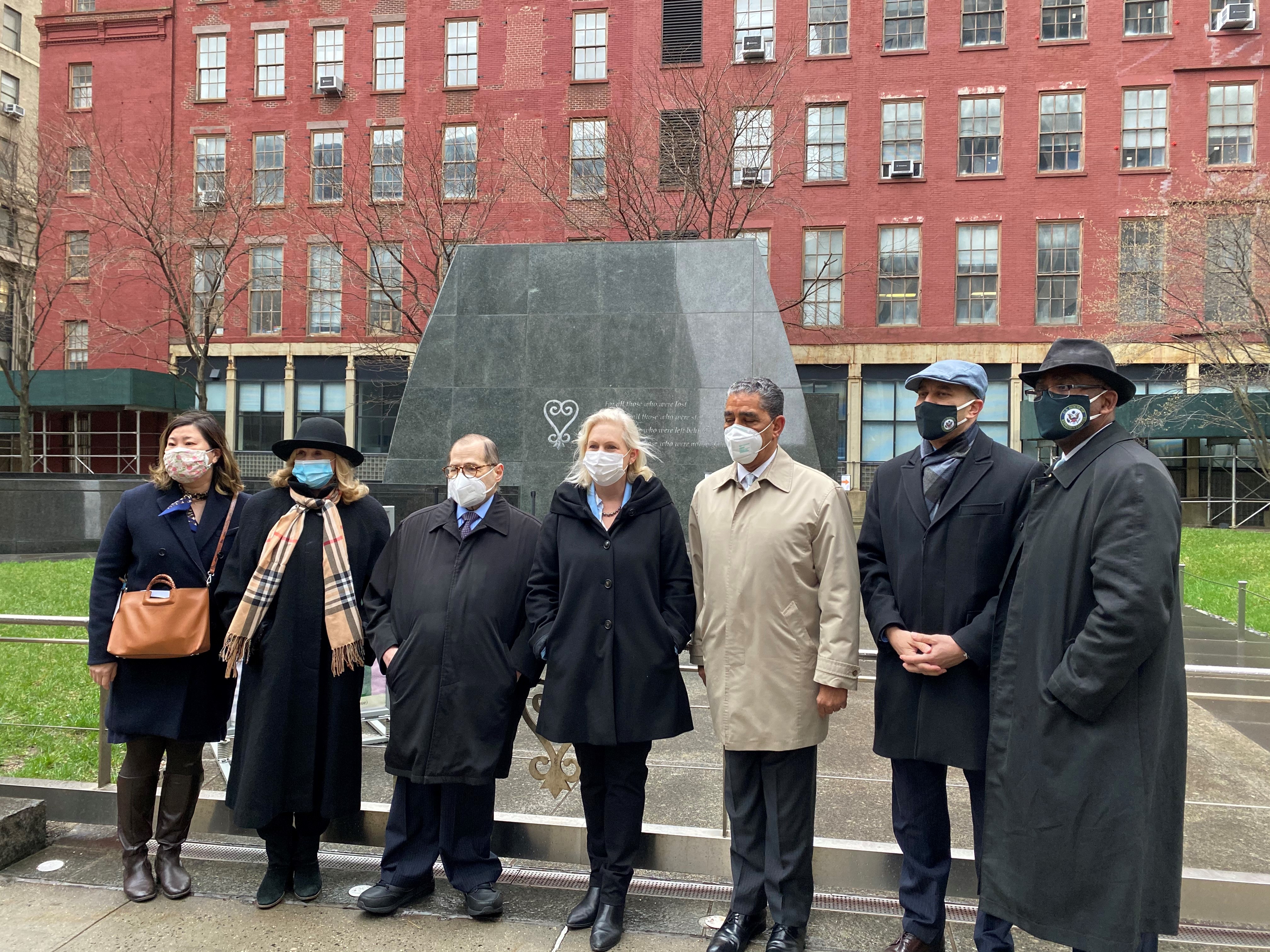 Rep. Nadler reintroducing the African Burial Ground International Memorial Museum and Education Center Act alongside Senator Gillibrand and Members of the New York House delegation
I have worked hard to protect and preserve the history of the African Burial Ground. I'm proud to have led the efforts to establish the site as a National Monument in 2006, dedicate the site as a memorial in 2007, and open a visitor center in 2010. I'm grateful for Senator Gillibrand's support, as well as that of my many New York House colleagues who have co-sponsored this most recent bill. The stories of those buried there—stories of struggle, sacrifice, joy, and love—deserve to be told.

Sincerely,

Jerrold Nadler