E-Newsletter
Signing the American Rescue Plan Into Law
Washington, March 29, 2021
Dear Friends,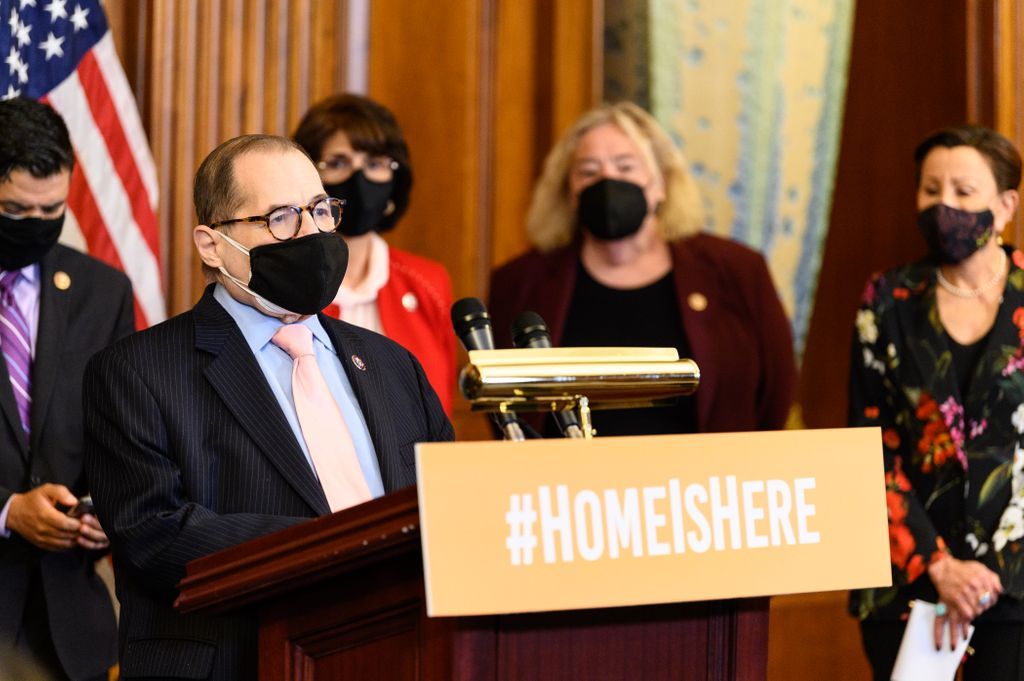 Rep. Nadler speaking at a press conference on Capitol Hill

On March 12th, President Biden signed the American Rescue Plan into law. As I wrote to yourecently, the American Rescue Plan is precisely the kind of sweeping, bold response we need to recover from the comprehensive economic and public health crises facing our nation today. The $1.9 trillion COVID relief package includes money to expand the Affordable Care Act for the first time, put vaccines in people's arms, extend unemployment benefits and help reopen schools. Homeowners and renters will get a lifeline to stay in their homes, and small businesses will get another infusion of assistance. It makes sure that struggling transit systems can keep keep trains and busses running and it delivers funds to the state and local governments that bore so much of the expenses of fighting COVID.

The American Rescue Plan is the third-largest relief bill in our nation's history. This newsletter seeks to provide more details about the key provisions of the bill and provide links to learn about how to apply for benefits where appropriate.

Small Business

America's small businesses are hurting and desperately need help. After suffering through this crisis for a full year, many small businesses are at the breaking point. Too many have already closed their doors. Between April and September 2020, nearly 800 American small businesse sand non-profits closed each day. Over the last year, I've pushed to provide more assistance to small businesses, non-profits, and entrepreneurs—they need support to make it to the other side of this crisis. The American Rescue Plan includes the kind of ambitious funding that businesses need to recover as our economy reopens.

The American Rescue Plan will provide:

-$7.3 billion in additional Paycheck Protection Program (PPP) funding and expanded program eligibility to include critical non-profits and digital journalism entities. Learn more here.

-$15 billion in additional Economic Injury Disaster Loan Program (EIDL) funding. Learn more here.

-$25 billion for a newly created program offering up to $10 million in direct grants to restaurants and other food service establishments. The SBA is working to get this program up and running, but you can check here for more information as it becomes available.

-$1.25 billion in additional funding for the Shuttered Venue Operators Grants. Learn more here.

Housing

Stable, safe, and healthy housing is critical to containing the pandemic and keeping people healthy. Yet as millions of Americans lost their jobs and took pay cuts over the last year, it became harder to make rent and mortgage payments. Today, nearly one in five Americans are behind on rent. While eviction and foreclosure moratoriums will help keep people in their homes, it is imperative that we immediately help people catch up on their rent and housing payments. I'm thrilled that the American Rescue Plan includes billions in assistance for renters, homeowners, and those experiencing homelessness and I'll keep up my efforts to keep people in their homes.

The American Rescue Plan will provide:

-$21.6 billion in additional emergency rental assistance, including $5 billion in new emergency Housing Choice Vouchers for vulnerable populations. These funds will be available through the state, and renters can learn more here as more information becomes available.

-$10 billion in homeowner assistance, $5 billion in homelessness assistance, and $5 billion in utility assistance. These funds will be available through the state and homeowners can learn more here as more information becomes available.

-An extension to all eviction and foreclosure moratoriums through September 31, 2021.

Healthcare and Nutrition

Over the last year, our health care system has been pushed to the breaking point. Millions of Americans lost their health insurance when they lost their jobs, leaving them uninsured in the middle of a pandemic. The last year has only solidified my determination to pass Medicare for All and ensure such a crisis never happens again.

The previous administration failed to develop a comprehensive testing, treatment, and vaccine plan and did not provide enough PPE and critical health supplies to health care providers.The American Rescue Plan takes several vital steps to address each of those shortcomings and while we still have a way to go, the bill will make sure that many more Americans receive the health care and vaccines they need.

The American Rescue Plan will provide:

-100% coverage of COBRA premiums for those who have lost their jobs and choose to keep their health insurance. Learn more here.

-Expanding health care coverage and lowering costs by increasing premium subsidies for the millions of Americans who buy their insurance through the ACA marketplaces. Learn more and apply here.

-$20 billion for improving vaccine administration and distribution, and $8 billion to improve and expand the public health workforce. You can learn more about how to get vaccinated here.

-$50 billion to develop and execute a nationwide testing and contact tracing strategy and $1.75 billion to test and track variants. You can learn more about testing here.

-A 15% increase in SNAP benefits to address hunger and $3 billion in new food assistance. Learn more here and apply for SNAP here.

Labor and Workforce

At a moment in which one in seven families don't have enough to eat and 40 million Americans are struggling to stay in their homes, I'm glad that the American Rescue Plan extends and expands pandemic unemployment assistance until August. However, with so much more to be done to lift people out of poverty and give workers a long-overdue raise, I'm disappointed it doesn't include a $15 minimum wage. For over 30 years, I've fought to combat poverty and expand workers' opportunities through fair wages in New York and across the country. That won't stop any time soon: I'll continue to fight for $15.

The American Rescue Plan will provide:

-Extended Unemployment Insurance (UI), Pandemic Unemployment Assistance (PUA), and federal supplemental benefits through September 6, 2021.You can apply for unemployment benefits here. If you are already enrolled in UI, you do not need to take any action.

-Exempts the first $10,200 in UI benefits from any taxation in 2020 to avoid surprise tax bills and provides an additional $300 in federal supplemental unemployment benefits through September 6, 2021. You can learn more here and find IRS guidance here.

-Expands and improves critical tax relief for working families. You can learn more here and visit the IRS website to see when additional information is available.

- Triples the maximum Earned Income Tax Credit for taxpayers with no qualifying children to $1,502 and reduces the minimum age for claiming the credit to 19 years old.

- Increases the Child Tax Credit to $3,000 per child for children aged 6-16, creating a $3,600 tax credit for eligible children under age 6, and making the entire Child Tax Credit fully refundable.

- Expands the Child and Dependent Care Tax Credit to cover half the cost of care up to $4,00 for one child or $8,000 for two or more children. You can learn more here.

Survival Checks

Over the past year, millions of Americans have struggled to pay rent, put food on the table, buy medication, and care for their families and loved ones. I have fought for sustained, monthly payments to struggling families throughout this pandemic and it was clear that Congress needed to follow through on our promise to provide $2,000 to those who need it most. I'm proud that the American Rescue Plan puts money where it is most urgently needed—right into the pockets of working families.

The American Rescue Plan will provide:

-$1,400 checks to individuals earning up to $75,000 and married couples earning up to $150,000. Unlike previous stimulus payments, adult dependents, including college students, disabled adults and elderly Americans, may also qualify for a $1,400 payment. Learn more and check on the status of your check here.

I hope that these resources help you better understand the American Rescue Plan and what it means for you and your family. As always, my office remains available to support constituents and answer any questions you may have. If you require assistance, please call my office at 212-367-7350.