E-Newsletter
Serving as Manager in the Impeachment Trial of President Trump
Washington, January 30, 2020
Serving as Manager in the Impeachment Trial of President Trump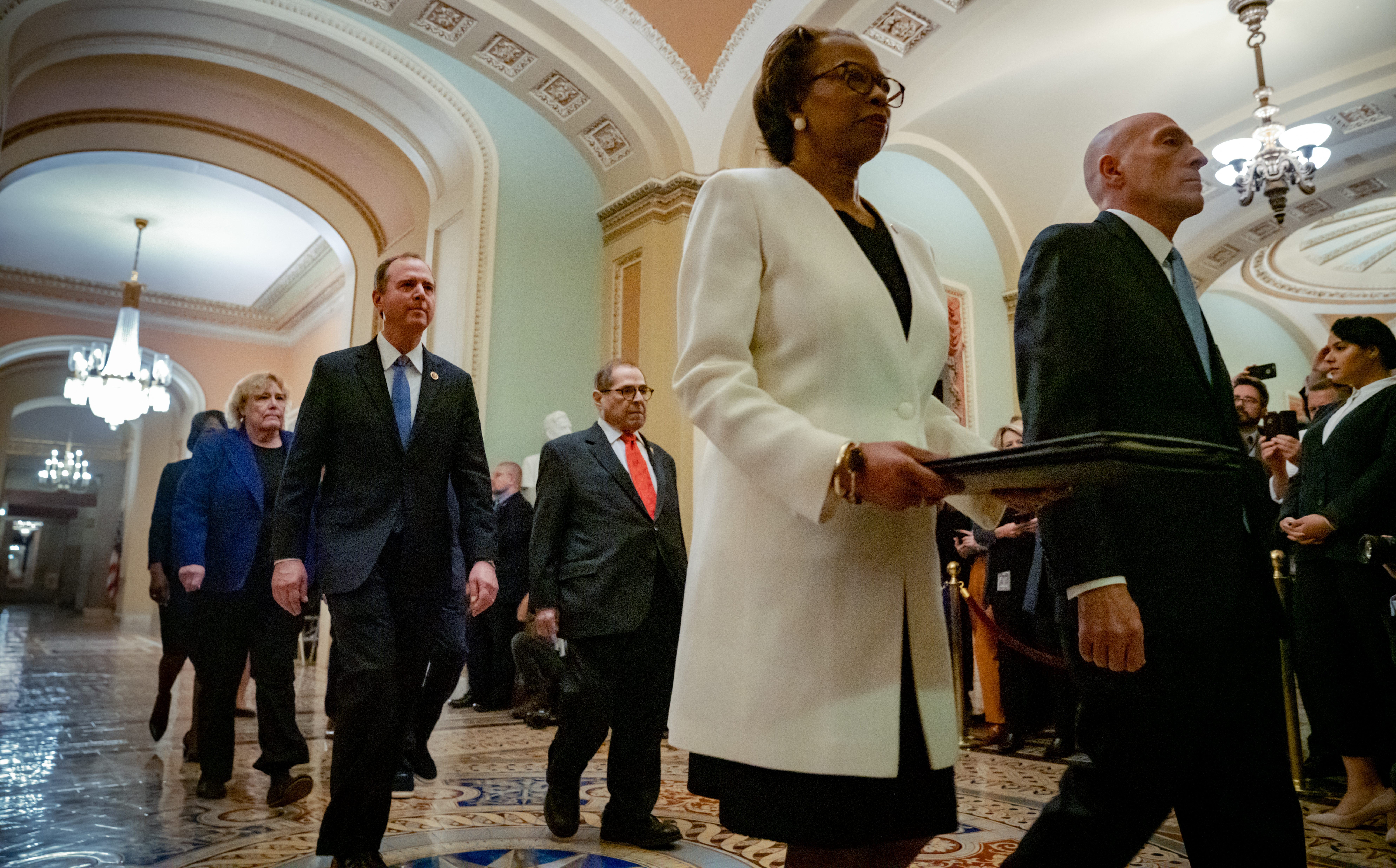 Rep. Nadler delivering the articles of impeachment from the House to the Senate with other House managers
Over the past several months, as impeachment has gripped the nation and the Congress, I've returned time and again to a quote from 1787. Someone approached Benjamin Franklin at the close of the Constitutional Convention and asked him what exactly this young country would look like - 'A Republic, if you can keep it,' was his response. We all keep the Republic in our own, small, everyday ways—volunteering in our communities, serving on juries, voting in elections—but sometimes, in moments of deep crisis, the work of keeping the Republic grows larger, more urgent, more difficult.

The Judiciary Committee and then the full House of Representatives voted to impeach the President. Impeachment is not something that any of us in Congress take lightly, but when confronted by the President's actions, which directly undermined the legitimacy of our upcoming elections and the balance of our separate branches of government, to not act would have violated the oaths all of us in Congress—and President Trump—took to preserve and protect the Constitution.
Now that the two articles of impeachment have made their way to the Senate, my role has changed. I'm honored to have been selected by Speaker Pelosi to serve as an impeachment manager, presenting the case of the President's abuse of power and obstruction to the Senate. While there are no guarantees for the final outcome, I'm immensely proud of the Judiciary Committee for its rigorous and fair investigation into the President, and of the House for doing its duty.
Strengthening New York's Outdated Transportation Infrastructure
Every day, more than 200,000 people travel via rail between New York and New Jersey, taking Amtrak and New Jersey Transit to commute to and from work. These rail lines rely on the North River Tunnels, which were state of the art when they first opened in 1910 but have since become dangerously antiquated. Since Hurricane Sandy, deficiencies within the tunnels have resulted in over 2,000 hours of transport delays. A dramatic expansion of these tunnels has already been proposed—it's called the Gateway Project. Gateway would renovate the North River Tunnels while also doubling the number of rail lines under the Hudson, allowing for high-speed rail service while simultaneously decreasing delays. Beyond lessening the constant inconveniences commuters encounter on a regular basis, Gateway is an economic and safety imperative.

Unfortunately, Gateway has gotten entangled in bureaucratic red tape, with the Department of Transportation downgrading its urgency so that it is no longer eligible for federal funding. This decision is why I joined many of my colleagues, Democrat and Republican alike, in sending a letter to the Department of Transportation urging them to move forward with Gateway. We can't afford any more delays.


On a related note, I'm very proud that after sustained pressure from Rep. Nydia Velázquez, Rep. Max Rose, and myself, the ban on split-tolling on the Verrazzano-Narrows bridge has been repealed. This is a change that will directly benefit New Yorkers, forcing out-of-state trucks to finally pay their fair share while decreasing traffic and congestion in Lower Manhattan.
Fighting to Protect Pregnant Workers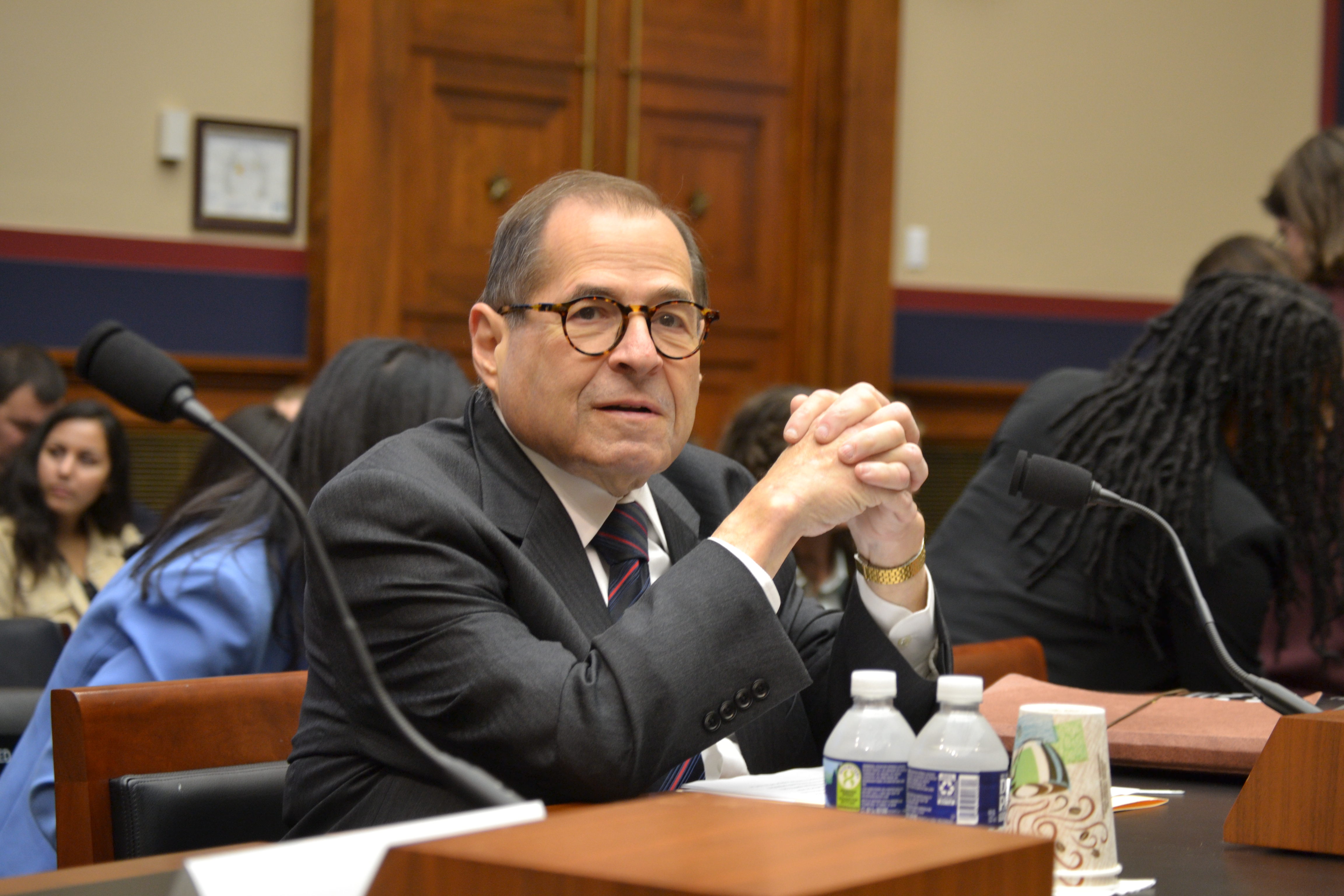 Rep. Nadler testifying during an Education & Labor Committee hearing on the Pregnant Workers Fairness Act
Earlier this month, the Education & Labor Committee passed my bill, the Pregnant Workers Fairness Act (PWFA), which I have been working on for nearly eight years. I'm incredibly proud that the PWFA will now make its way to the full House and even prouder of the bipartisan support it has received—two of its lead cosponsors are Republicans, and it received Republican support in the markup, advancing out of Committee by a vote of 29-17.
While the Supreme Court's 2015 decision in Young v. UPS permitted pregnant workers to bring accommodation discrimination claims under the Pregnancy Discrimination Act (PDA), the bar to prove discrimination was placed so high that many couldn't meet it, leaving some of our most vulnerable citizens—working mothers to-be—without relief. The PWFA will solve this problem, mandating that employers provide reasonable accommodations to employees with pregnancy or childbirth-related medical conditions, so long as it doesn't place an undue burden on the employer. These are basic accommodations—water, additional breaks from work, limitations on the kind of heavy lifting that the employee can be asked to do—but for a pregnant worker and the health of their baby, it'll make all the difference in the world.
No one should have to compromise their health, or a healthy pregnancy, out of fear of losing their job. I look forward to this bill receiving the full House vote it has so long deserved.
Checking the President's Approach to Foreign Policy
The recent military airstrike targeting high-level Iranian officials is just another example of the President eroding our national security by acting recklessly and without sound legal authority or reason. After all, this is a President who has undermined national security through impulsive foreign policy decisions, often foregoing any consultation with Congressional leaders or our global allies. While it's difficult to capture how dangerous this is, the rapid escalation of hostilities with Iran—which brought us to the brink of war—demonstrate how dramatic the consequences of the President's go it alone approach to foreign policy can be.

Due to the President's escalatory military and diplomatic actions, we're much closer to facing a nuclear Iran than we were before he took office. His unilateral decision in May 2018 to withdraw the United States from the Joint Comprehensive Plan of Action (JCPOA) was condemned by our allies around the world, and when Iran abandoned the uranium enrichment limitations set by the deal, the United States could no longer claim the diplomatic high ground. The President's decisions have diminished America's standing in the world and made us less safe.

I'm proud that the House took decisive action in response to this gross overreach by the President, passing a War Powers Resolution mandating that the President receive Congressional authorization before pursuing military action against Iran. But there's a lot more that Congress can do, and I'm an enthusiastic co-sponsor of Rep. Barbara Lee's bills to repeal both the 2001 and 2002 Authorizations for Use of Military Force (AUMF). I'm also a co-sponsor on Rep. Ro Khanna's No War Against Iran Act.