E-Newsletter
Passing the Pregnant Workers Fairness Act Through the House
Dear Friends,
These past several weeks have been busy. I have been active in Washington, working to pass legislation, advocating for my constituents, and helping our nation recover from the devastating COVID-19 pandemic. Read more below on what I have accomplished.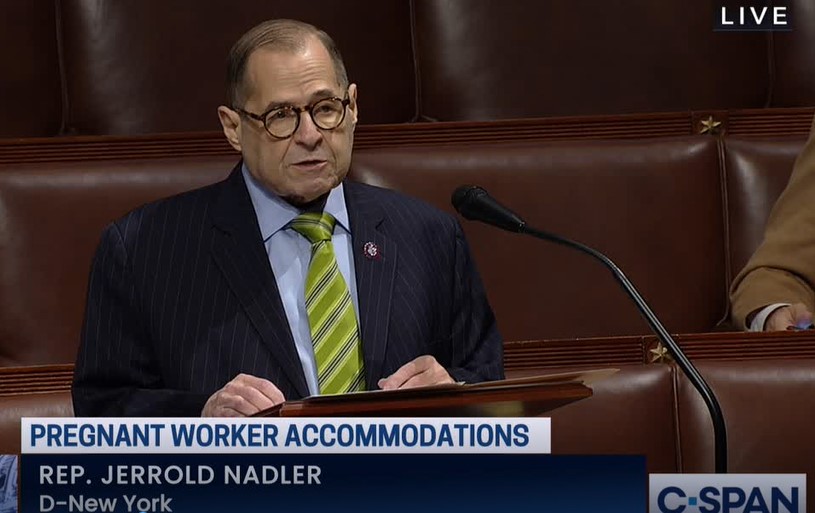 Rep. Nadler delivering remarks on the House floor in support of the Pregnant Workers Fairness Act
Passing the Pregnant Workers Fairness Act Through the House
For far too long, pregnant workers in America have been forced to make an impossible choice. Without an affirmative right to accommodations in place, pregnant workers have found themselves struggling to decide between what's most important: protecting the health of their pregnancy or keeping their jobs. I won't stand for such blatantly unjust discrimination, which is why I reintroduced my bill, the Pregnant Workers Fairness Act (PWFA), in February. The PWFA—which guarantees pregnant workers the kinds of reasonable accommodations they need to safely stay on the job, like a stool or a water break—passed the House last week by a sweeping bipartisan vote of 315 to 101.

I'm not surprised that the PWFA earned significant support from both sides of the aisle; it doesn't just combat discrimination in the workplace, it keeps women and children safe and strengthens our economy. Even in our polarized landscape, that's difficult to oppose. The PWFA has the support of groups across the political spectrum, from workers rights groups to the U.S. Chamber of Commerce, all of which recognize the great deal of good this legislation will do for so many. House passage is a significant step, a true barometer of progress, but it's not the finish line. I'll keep working to see it through the Senate and onto President Biden's desk—I won't rest until the Pregnant Workers Fairness Act is signed into law.
Calling for Peace in the Israel-Palestine Conflict
The recent turmoil and violence in Israel, the West Bank, and Gaza has been nothing short of heartbreaking. My thoughts remain with the innocent civilians, Israeli and Palestinian alike, who have been forced to withstand such unimaginable pain. I will always support Israel's right to exist and right to defend its citizens against the indiscriminate destruction sought by terrorist organizations like Hamas. The Palestinian people also have the right to live in safety, free from fear, and I am heartbroken by the suffering they have endured. Democrats must continue to stand for our core values and hold Israel to the same standard—I hope you'll read my recent essay in the New York Times outlining Democrats' priorities in the region.
As the most senior Jewish Member in the House, I also led a letter along with eleven other Jewish House Members to President Biden, urging him to facilitate de-escalation and pursue more consistent diplomatic engagement to help end the conflict.
The recent ceasefire—which was achieved in no small part because of American diplomacy—made clear that steady American engagement, action, and leadership are vital.

Lowering Prescription Drug Costs
Americans generally pay more for prescription drugs each year than anyone else in the developed world. It's a horrible injustice—a cruel one, too—that results in many Americans going bankrupt, or even dying, because they can't afford the medication they need to survive. What makes it even worse is that much of what causes this needless suffering can be traced back to the anticompetitive practices large pharmaceutical companies employ to keep prices high.
As Chairman of the House Judiciary Committee, I recently led introduction of a package of legislation specifically targeted to weaken the grip these pharmaceutical companies hold over the prescription drug market. I'm proud of all of these bills—which you can read about in more detail here—but especially the bill I introduced, the Preserve Access to Affordable Generics and Biosimilars Act, which would knock down barriers that keep low-price generic drugs from reaching the market. More must be done to wrest control of prescription drug costs from corporate influence, and I'm proud to spearhead this crucial step forward.
Small Business Resources for New Yorkers
The adverse economic conditions that COVID-19 wreaked on New York City still defy belief. It's a true testament to the resilience of our city—the tenacious refusal to surrender that sets New York apart—that so many of our small business managed to stay operational, often through a combination of remarkable flexibility, governmental support, and that trademark New York grit. Throughout this past year, I've been working hard in Washington to secure federal funds to lighten the burden on struggling businesses and I'm proud of the millions of dollars I've been able to deliver to working New Yorkers.

I know very well how severely small businesses in New York City and nationwide have been hit by this crisis, so I wanted to share some useful resources. New Yorkers who operate a music venue, a museum, or a stage—which suffered greatly from shuttered doors—can apply here for a Shuttered Venue Operator Grant. And if you're the owner of an underserved small business that struggled to access economic relief, I encourage you to learn more about the Community Navigator Pilot Program here. I hope my constituents will take advantage of these resources and as always, please contact my office if you require assistance.