E-Newsletter
New York Must Seize Campaign Reform Opportunity
Washington, September 20, 2019
New York Must Seize Campaign Reform Opportunity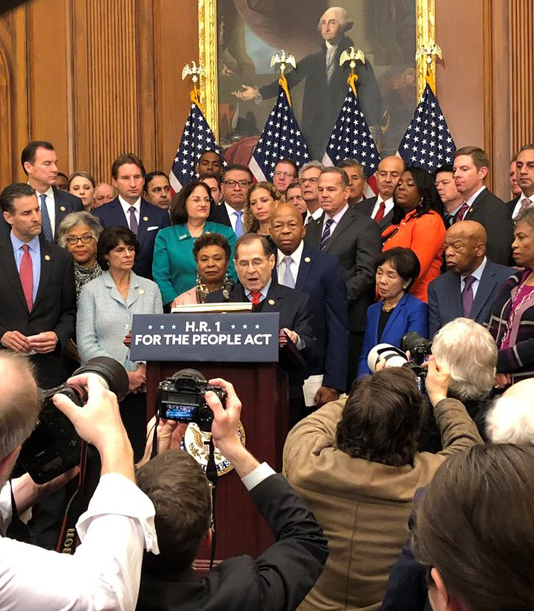 Rep. Nadler speaking in support of H.R. 1, the For The People Act, which ends the dominance of big money in our politics.
This week, I wrote an op-ed in the New York Daily News calling on New York State to take strong steps to address the role of big money in our politics by enacting a publicly-financed, small-donor matching campaign finance system. To read my full op-ed, please click here.

Below is a portion of the op-ed:

"Under the governor's leadership, the state is in the unique position to show the rest of the country how to build and protect democracy by enacting campaign finance reform with small-donor matching funds.
There is one catch: They have less than 75 days to get it right. And yet now, rather than focus entirely on the major task in front of them — enacting model legislation to reduce the influence of the wealthy and powerful interests — they are spending precious time on the question of whether or not New York State should maintain its system of fusion voting. The Court of Appeals, New York's highest court, hasruledthree times (in 1910, 1911 and 1973) that fusion, which allows parties to endorse candidates of another party, is a constitutional right. Fusion voting is an important part of New York's democracy — giving voters more choices, not just of candidates but of parties. And as the New York City system has shown, fusion has no impact on a robust public financing system.
So reformers in New York need to keep their eyes on the ball. Though Democrats around the country are supportive of public financing, it's here in New York where we can lead the way."
To read my my full op-ed, please click here.
Stay Connected
Enter your information to get the latest updates via our newsletter