E-Newsletter
Repairing America's Broken Cannabis Laws with the MORE Act
Washington, December 11, 2020
Dear Friends,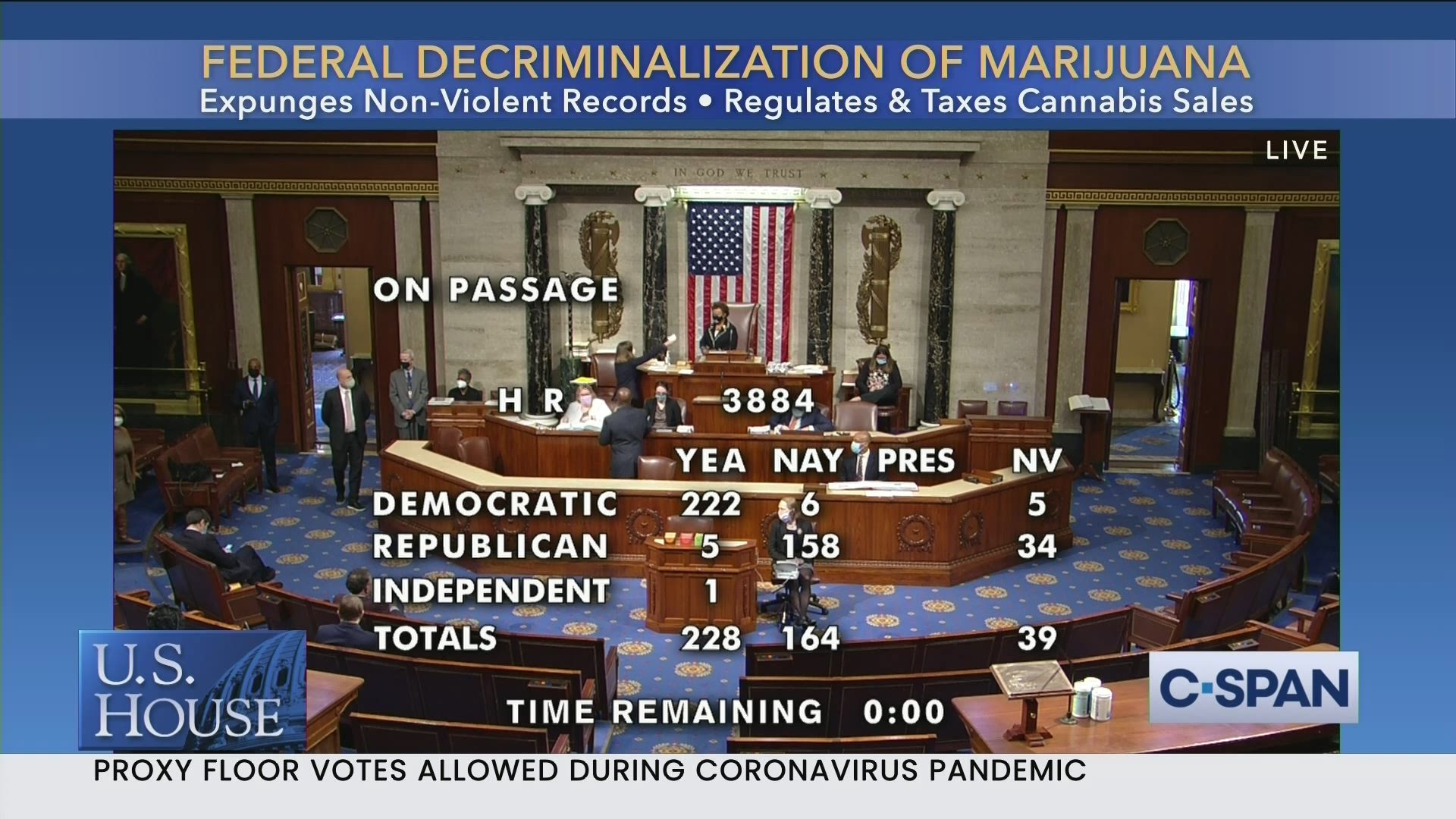 The House passed the MORE Act by a vote of 228 to 164.

Repairing America's Broken Cannabis Laws with the MORE Act
For the minority communities that have borne the heaviest cost of the war on Cannabis, our justice system has been anything but just. Not only have Black and Brown Americans been arrested at higher rates and sentenced to longer sentences than their White counterparts, they have reaped the fewest benefits from the legalization of marijuana. The inequality is as stark as it is systemic: while Black men serve drug sentences that are, on average, 13.1 percent longer than the sentences served by White men, they only own 4 percent of cannabis businesses. This manifest injustice, which has created an often-permanent second-class status for millions of Americans, is the direct result of decades of racist federal marijuana policies, the outcome of laws drafted based on little more than hysteria and stereotype.

Reforming this broken system has long been a moral imperative for me and last Friday, after years of hard work to free our drug laws of the cruel shackles of discrimination, the House made history by passing my bill, the Marijuana Opportunity Reinvestment and Expungement (MORE) Act, by a bipartisan vote of 228 to 164.
I introduced and sponsored the MORE Act with then-Senator, now-Vice President-Elect Kamala Harris (D-CA) precisely because of the difference I know it will make in the lives of so many. The MORE Act removes marijuana from the Controlled Substance Act's list of harmful narcotics, provides loans and resources specifically to communities hardest hit by the War on Drugs, expunges federal marijuana convictions, and includes measures facilitating the inclusion of people of color within the legal marijuana industry. This bill does more than legalize marijuana on the federal level—it corrects past injustices while remedying their present-day implications, lifts a legacy of oppression from our judiciary, and works to make an America that is fairer and more prosperous for all. I am thrilled that the MORE Act passed the full House and I'll continue to work to see that it is signed into law.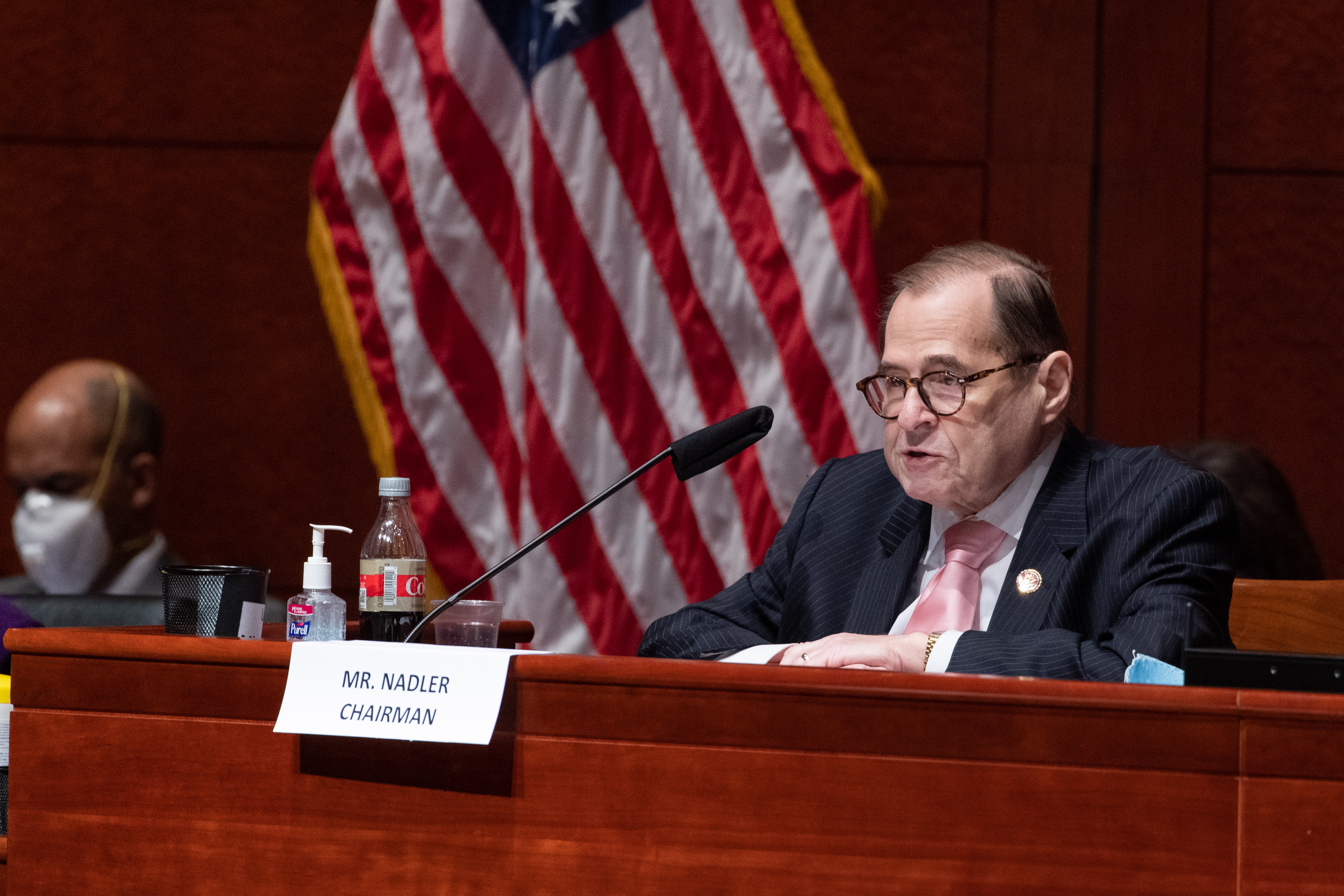 Rep. Nadler Chairing a Judiciary Committee hearing.
Reflecting on the House Judiciary Committee's Accomplishments
This past Congress has been an especially busy one for the House Judiciary Committee. While some of the Judiciary Committee's efforts to hold the Trump Administration accountable dominated news coverage, I'm equally as proud of our work to fight the scourge of gun violence, protect the freedom of our elections, defend the welfare of consumers against abusive corporations, reform America's flawed policing system, and so much more. A recent report prepared by the Judiciary Committee staff makes clear the impact of the Committee's tenacious work throughout this truly historic Congress, with 92 Judiciary bills passed by the House (30 of which have been signed into law) since I became Chairman in January 2019.
As Chairman of the Judiciary Committee, I strive each day to ensure that our Committee's priorities match the priorities of everyday Americans and am especially grateful for my colleagues on the Committee—without their dedication to bettering our nation, none of these accomplishments would be possible. Yet the work is not over. There is still much to be done to make our nation fairer, safer, and more equal for all. I look forward to leading the Judiciary Committee in the coming 117th Congress and continuing my work to best serve the interests of the American people.
Bringing Green Jobs to New York City
As our nation confronts the threat of climate change, New York City should lead the way. Overcoming the most serious challenge facing our planet today will require hard work and leadership, both of which New Yorkers have in abundance. That's why I, along with Rep. Nydia Velázquez (D-NY), called on Governor Cuomo to build America's first offshore wind production hub at the South Brooklyn Marine Terminal, generating green jobs for our city and building the infrastructure needed to reduce our dependency on destructive fossil fuels. This project doesn't only invest in a more sustainable future for our planet, it invests in a sustainable economic future in Brooklyn, offering opportunities to local small businesses and residents while rendering New York's workforce capable of doing the jobs of tomorrow. The world has so often looked to New York in the past for the innovation it generates and the example it sets. As we embark upon the task of building a greener future and developing renewable energy sources, New York should be the model other cities aspire to emulate. I look forward to working with Governor Cuomo, Rep. Velazquez, and others to make this project a reality.
Historic Election with Biden-Harris Victory
The shouts and hollers that echoed throughout New York City after the announcement of President-Elect Biden's electoral victory were an unfamiliar sound. After a year of sirens and eerie silence, it was a welcome change to hear expressions of joy and hope ringing through the streets. While several weeks have passed since the election was called, my sense of hope remains just as strong as it did that jubilant day. This was an historic election, in more ways than one—not only did more eligible voters (73 percent) vote in this election than any previous Presidential election, they cast more votes for President-Elect Joe Biden than any other candidate in history. Vice President-Elect Kamala Harris made history in her own right as the first woman and the first person of color to be elected Vice President—her election will inspire countless young Americans to think differently about who can and should lead America.

Despite fears of chaos at polling locations, our voting system passed the test and counted Americans' votes with integrity and competence. Above all else, I'm proud that more than one hundred and fifty million Americans came out to support our country and exercised their civic right to make their voices heard. As our nation confronts a raging pandemic, a struggling economy, and numerous other problems of immense urgency and import, I look forward to working with the Biden-Harris Administration in the year ahead.
Sincerely,


Stay Connected
Enter your information to get the latest updates via our newsletter