E-Newsletter
Federal Student Loan Update
Washington, DC , September 1, 2023
Dear Friend,
Unfortunately, on June 30, 2023, the Supreme Court issued a disastrous decision invalidating the Biden-Harris Administration's student debt relief plan to provide up to $20,000 in one-time relief to over 40 million student loan borrowers, according to White House estimates. The Supreme Court's decision has therefore deprived tens of millions of Americans and their families of critical financial assistance at a time when many are still struggling to make ends meet.
Here's what you need to know about how this may impact you, how to navigate the upcoming end of the federal student loan payment pause, and how to obtain available forms of student loan debt relief:
Important Dates
Student loan interest will resume accruing on September 1, 2023.
Payments will be due in October 2023 for most borrowers.
Here are some steps you can take to prepare for your payments to resume:
Update your contact information with your loan servicer(s) and on StudentAid.gov, and make sure you have an online account set up on each website.
Visit your account on your servicer's website to see your payment amount once your bill has been sent. Log in to find your servicer.
Enroll (or reenroll) in autopay on your servicer's website, which will ensure your payment is automatically processed every month so you don't miss a payment. Autopay is optional, but if you choose autopay, you'll save 0.25% on your interest rate.
---
For many of you, your life circumstances may have changed since the last time you made a student loan payment, or this may be your very first time making a payment.
The best way to determine your options is to visit the Department of Education's Preparing for Payments to Resume Page.
Get Help with Your Payments
Enroll in a repayment plan.
Compare repayment plans with the Department of Education's Loan Simulator.
Since the Supreme Court decision, the Biden-Harris Administration has created a new repayment plan option, the most affordable loan repayment plan ever created, called the Saving on a Valuable Education (SAVE) Plan.
The SAVE Plan, like other income-driven repayment (IDR) plans, calculates your monthly payment amount based on your income and family size.
The SAVE Plan replaced the Revised Pay As You Earn (REPAYE) Plan. Borrowers on the REPAYE Plan automatically get the benefits of the new SAVE Plan.
The plan will cut monthly payments to $0 for millions of borrowers making $32,800 or less individually (the cutoff is $67,500 for a borrower in a family of four) and save all other borrowers at least $1,000 per year. Additionally, it will stop runaway interest that leaves borrowers owing more than their initial loan.
Use the IDR application to apply for the SAVE Plan now. You can select the option for your loan servicer to place you on the lowest monthly payment plan (this will usually be SAVE).
If you are already on an IDR plan, check to see if you are on the REPAYE Plan. Log in to StudentAid.gov, go to your My Aid page, scroll down, and view your loans. Each loan will list a repayment plan. If you see that you are enrolled in the REPAYE Plan, you'll automatically be enrolled in the SAVE Plan.
You can also enroll in the SAVE Plan if you're on a different repayment plan. If you don't have a StudentAid.gov account, create an account now.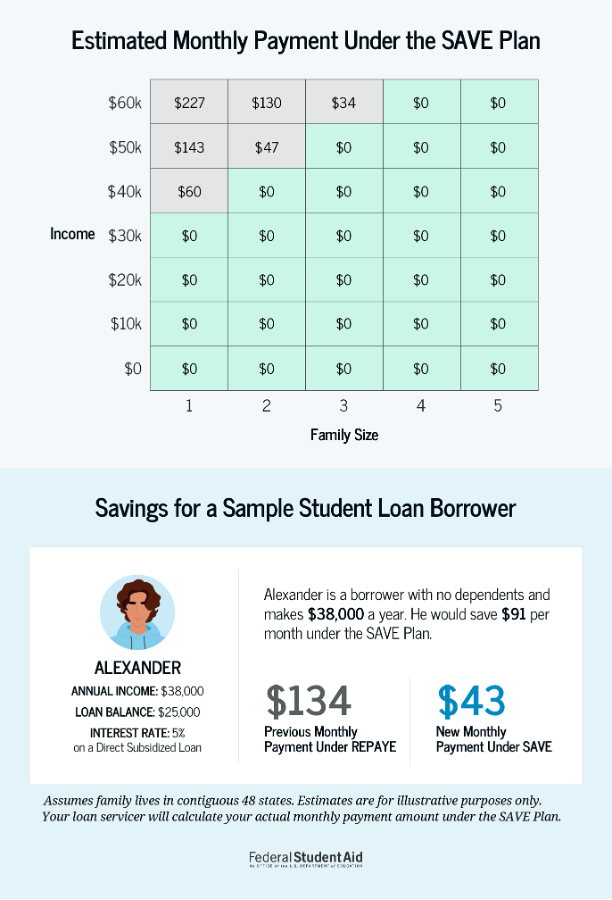 If needed, take advantage of the Department of Education's temporary on-ramp to protect borrowers from the worst consequences of missed, late, or partial payments, such as negative credit reporting.
The temporary on-ramp period runs through September 30, 2024.
This on-ramp period protects borrowers from having a delinquency reported to credit reporting agencies.
However, payments are still due, and interest will continue to accrue on your loans. The Department of Education will not report you as delinquent during the on-ramp, but they do not control how credit scoring companies factor in missed or delayed payments.
Only loans eligible for the payment pause are eligible for on-ramp.
If any of your loans are in default, visit the Department of Education's page about the Fresh Start for loans in default.
Apply for forbearance or deferment, which will temporarily pause your payments and provide more predictability when you must resume repaying. It's important to keep in mind that forbearance and deferment have financial pros and cons.
Check if you qualify for a type of targeted loan forgiveness.
The Department of Education has approved more than 2 million borrowers for forgiveness in the last two years due to public service employment, disability, or college wrongdoing.
---
I hope you find this update on my work for you helpful. To receive more updates like these, click here to sign up. If I can be of assistance with a federal issue or any other matter of concern, please email me here or call one of my offices listed below.

Sincerely,

Jerrold Nadler
Member of Congress